ADOPT A HERMIT THEATRE & FILM PRODUCTIONS
Adopt a Hermit is a contemporary production company, set up in 2010 to produce new and high concept works, from theatre to film. The company made its debut with its first production of the stage-play "Candy Flipping Butterflies". Set up by actor and now writer Karl Argue, to independently produce his writing. We aim to push boundaries of design, visual style, and above all else story telling and by also bring together artists and art forms that traditionally may not be included in the media of film or theatre.
---
THE ANTI-LOVE PILL
"The Anti Love Pill" is a short film about a man who searches for the cure for love.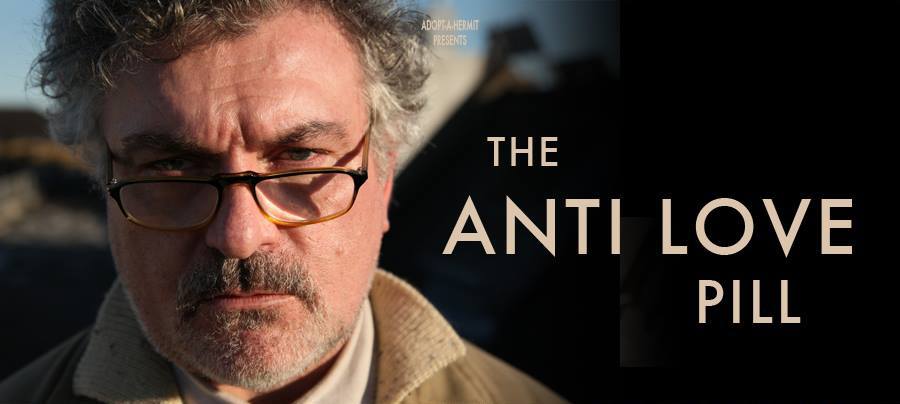 Starring: Karl Argue (The Clinic/Where the sea used to be) Vanessa Emme (The Shadows) Tara Power (Republic of Telly) and Brian Mc Guinness (King Arthur)
Supporting cast include: Gail Brady (Blood), Steve Gunn (Titanic:Blood & Steel), Patrick Murphy (Love/Hate), Jose Montero (Bitterness), Oliver McQuillan (Blood), Daniela Vanasco (Bitter Sweet), Rachel Moore (The Rescue) and Shane Ward (Split Treads).
Dop: Eimear Ennis Graham, Sound: Luke Page, Ad: Ivan Poynton, Make-up: Susan Kenny. Actor/playwright Karl Argue (Candy Flipping Butterflies) presents his screen-writing/directing debut with "The Anti Love Pill" Produced by Adopt a Hermit. Released in 2014 this short film is still being broadcast around the world.
---
Candy Flipping Butterflies
A stage play by Karl Argue
Stephen Jones, Chris Gallagher, Carla McGlynn, Aoibheann McCaul and Neill Fleming
Staged at The New Theatre Dublin 2010
"It's difficult to find a hero, when they're all off their heads …"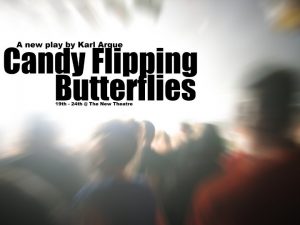 Set in the mid 1990's, around the rave culture in Ireland, as we follow the lives of four teenagers wherever they may be, over a weekend of drug fuelled debauchery on this lyrically rhythmic roller coaster ride of ecstasy. A play about the 90's for the 21st century, combining the best of Electronica, laser light shows, dance, with mouth popping dialogue, and comedic and dramatic performances that will all have you on the edge of your seat, all mixed together in a poetic cocktail that will titillate your every senses.
"My blood races, All through my body, Spreading happiness to places, in my mind, BODY, and soul, that's where I want to go… I can feel it in me, pumping faster And Faster, Base loving, TECHNO. Oh here it comes, We're ready to go. He takes away the beats…and we flow…Bliss! Magical maladies. Make us reach to the sky. I FEEL SO GOOD. I feel so good! Makes me smile, All loved up. Head rushing. Body mushed. Everything is great. Living the moment, Hugs to a stranger. Kisses to a babe. Beat teasing D.J. Bring back the beats…"
(Candy Flipping Butterflies: Extract)
---
In development
A feature film about mental illness
A stage play about stand-up
A t.v.. series about a down and out actor